NAPLES, Fla. (Oct. 26, 2020) – Golf Inc. Magazine has awarded Pelican Sound Golf and River Club "Clubhouse of the Year 2020." With interiors designed by Wegman Design Group (WDG), the prestigious "Clubhouse of the Year" award recognized Pelican Sound Golf Clubhouse as the best clubhouse renovation in 2020. One of the judges noted that the renovation was "comfortable and confident without resorting to grandeur."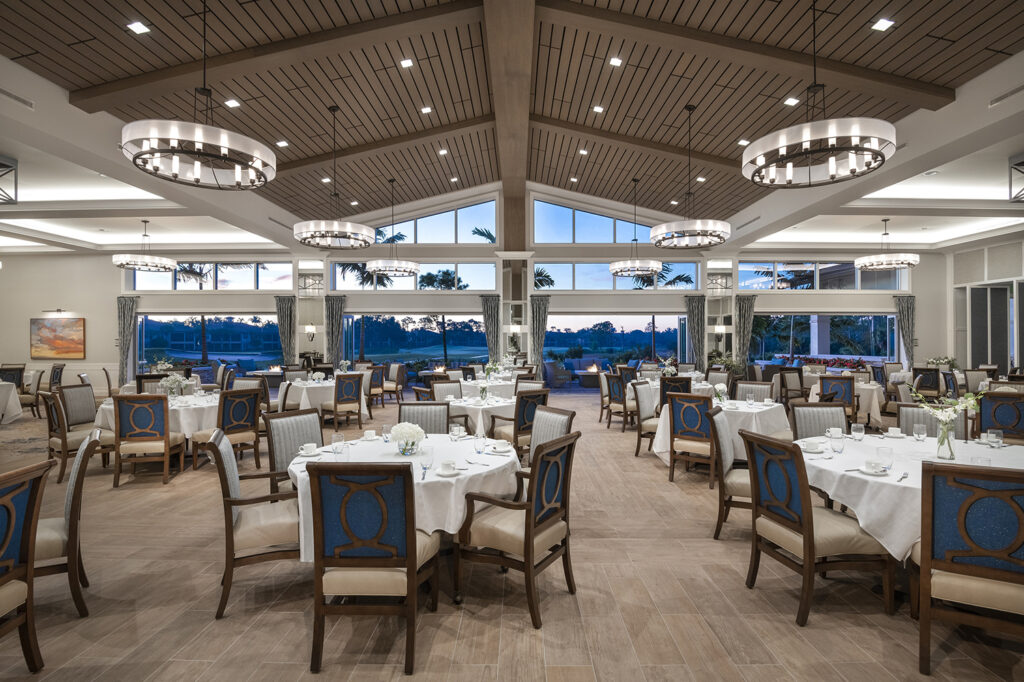 Wegman Design Group began working with Pelican Sound in 2016 to initiate the reimagination and interior design of the Clubhouse. Together with partners RG Architects and contractor, EnviroStruct, they moved forward with a bold plan to reinvent this amenity.
Loren Wegman, design director, and the WDG design team welcomed the creative collaboration and the opportunity to provide the community with an extraordinary environment exceeding their expectations for both form and function.
"This project is so deserving of this honor, as each of the team – from general manager, committee and professional team – worked diligently to create a gorgeous space that all can enjoy and be proud to share," said Loren Wegman.
The new 27,000-foot clubhouse features Vista, the main dining room with an entire wall of folding glass doors and high ceilings overlooking the preserve and Lakes course. It offers a superb dining experience, bathed in natural light and the ability to open the doors to create an indoor-outdoor ambiance.  The new Pelican Pub is an ideal place to gather after a round of golf or racquet sports. The Pub provides both, indoor and outdoor dining options under the exterior patio.
The Pavilion is a casual restaurant pairing fresh air and fresh food. With an open kitchen featuring stone fire pizzas from a state-of-the-art, new eight-foot gas oven. The new outdoor Terrace is a popular gathering place with lounge areas and firepits to provide warmth, comfort, and memorable moments.
The clubhouse complex is the final piece of a multi-year, $14 million amenity enhancement program approved by Pelican Sound members in 2018. It includes a re-building and re-imagining of the main clubhouse, with additional dining options, a new golf pro shop, new administration offices, improvements to the golf cart staging area and the development of Pelican Park, a new multi-use outdoor venue.
"Several years ago, the vision to improve our club facilities began with our strategic planning committee" said Pelican Sound board president John Graft. "As we strive to be the best bundled community in Southwest Florida, we know we must adapt and continuously improve our amenities to accommodate the desires of our membership."
General Manager/COO Eric Long noted that member involvement was critical to moving the project from plan to fruition. "We spent a lot of time presenting to the community, getting feedback, refining the details. We needed to get the right plan and we received overwhelming member support."
"We are delighted to share in this recognition," said Lori Wegman, ASID, IIDA, principal of WDG. "Our design team embraced the members' input, achieving and exceeding the goals they had set forth to enhance their community and their lifestyle."
For more information on Wegman Design Group visit www.WegmanDesignGroup.com. For more information about Pelican Sound Golf and River Club visit. www.pelicansoundgrc.com
---
About Wegman Design Group
For more than two decades, Wegman Design Group (www.wegmandesigngroup.com) has been known for local, national and international experience in interior design, project management and construction. Led by principal Lori Wegman, ASID, IIDA, the firm is recognized for their team's combination of high level design talent and insightful problem solving abilities. They have won numerous regional and national awards for their unique skills in blending theme, ambience and functionality.
About Pelican Sound Golf and River Club (www.pelicansoundgrc.com)
Pelican Sound Golf and River Club is a 1,299-door bundled community located in Estero, West of 41, between Williams Road and Corkscrew Road. Complementing the new Main Clubhouse is a second clubhouse, The River Club, which offers casual dining and entertainment. Pelican Sound has 27 holes of championship golf along with its 8 tennis and 8 pickleball courts, 5 bocce courts and a two-story fitness and learning center. With direct access to the Estero River and the Gulf of Mexico, members enjoy complimentary shuttles to Lover's Key State Park five days a week. Boaters can launch at the club dock and store their vessels on-site.